Beauty & Self
Books & Music
Career
Computers
Education
Family
Food & Wine
Health & Fitness
Hobbies & Crafts
Home & Garden
Money
News & Politics
Relationships
Religion & Spirituality
Sports
Travel & Culture
TV & Movies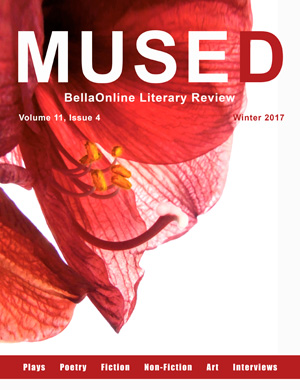 We all travel on this blue-green ball around our very own star each year, sliding a little closer, sliding a bit further away. The balance is critical. Too much closer and we'd roast. Too much further away and we'd freeze.

We should be aware of just how blessed we are that our Earth is "just right" - and do what we can to keep our world healthy. It's the only one we have.

Enjoy the Mused Winter Solstice 2017 Issue



The Young Englishwoman wheel
Tatting - Georgia Seitz, Editor

From the vintage publication, The Young Englishwoman, a wheel pattern #174 is examined to modernize the directions.




Hereís How Happiness Is Good for Your Health
Nutrition - Moss Greene, Editor

How can you change your mood? Here are some great tools to become a happier, healthier, more optimistic human-being, plus all the reasons why you should.




Broiled Salmon with Indian Spices
Indian Food - Sadhana Ginde, Editor

Healthy, delicious and super nutritious - my Broiled Salmon with Indian Spices is always a crowd pleaser & sure fire hit. This dish is super simple to prepare & also packed with lots of beneficial Omega 3s! This is a great dish for entertaining too, YUM :-)




Short Rows
Knitting - Korie Beth Brown, Ph.D., Editor

Looking to add shaping to your knitting? Learn how to short row!




Pumpernickel Grilled Cheese Sandwich Recipe
Sandwiches - Connie Mistler Davidson, Editor

Sometimes, I want a full-flavored hearty sandwich, something with Old World comfort. Thatís when I turn to this delicious sandwich. It has a rich crunch and ingredients that satisfy my need for real food.




Juggernaut Film Review
Drama Movies - Angela K. Peterson, Editor

A home-grown terrorist plants seven bombs on a British ocean liner. The authorities have twenty-four hours to find him and save the passengers. This overlooked gem from the seventies stars Anthony Hopkins, Omar Sharif, Richard Harris, and Shirley Knight.


| Google+ |
E D I T O R R E C O M M E N D E D
The Weiser Field Guide to Cryptozoology


The Weiser Field Guide to Cryptozoology by Deena West Budd includes information, interviews, and stories about forty different cryptids seen in various places all over the world by credible eyewitnesses like policemen, rangers, and doctors. Readers will learn where and how to find flying humanoids, hairy humanoids, giants of all kinds including rabbits, bats and spiders, goblins, and vampires.
Paradise in Plain Sight


Paradise in Plain Sight: Lessons from a Zen Garden by Zen Priest Karen Maezen Miller, is both memoir and Zen guide. Maezen Miller shares experiences repairing and tending a historical Japanese garden in her own backyard, guiding the reader towards direct insight. It is beautifully written, honest, and relevant to the modern seeker of any faith.
Turn On Your Inner Light by Debbie Mandel


This entertaining book offers easy to implement stress-management tools for 29 common life situations: techniques, visualizations and a fitness workout to get you off the couch. Take back your power and live more energetically. Donít vent - reinvent!