Beauty & Self
Books & Music
Career
Computers
Education
Family
Food & Wine
Health & Fitness
Hobbies & Crafts
Home & Garden
Money
News & Politics
Relationships
Religion & Spirituality
Sports
Travel & Culture
TV & Movies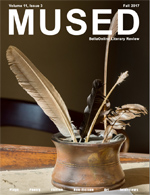 Autumn is a season for counting our blessings. For realizing just how much we have in life where so many others are without. It can often be easy to take things for granted. Things which millions of people desperately dream of having. By pausing for a moment, and looking around with mindfulness, we can find a new center. Begin with fresh energy.

Enjoy the Mused Autumn Equinox 2017 Issue



Folklore - Ballads
Folklore and Mythology - Ky Greene, Editor

Ballads are stories set to song, and they have been a part of Folklore since the Middle Ages. While ballads originated with wandering minstrels, the introduction of the printing press caused them to slowly dwindle. Some folk ballads remain today -especially in the mountains - but there has been a tu




30 Tat. Designs 2" Beveled Glass - Carolyn Craig
Tatting - Georgia Seitz, Editor

Carolyn Craigs "30 Tatted Designs for 2 inch Beveled Glass" book review.




Ozark
Prime Time TV - Maria Brown, Editor

From the increasingly popular original content creator, Netflix, comes a new drama staring Jason Bateman as financial planner, Marty Byrde who relocates his family to the Ozarks in an effort to launder money for a Mexican drug cartel.




Carrot Halwa Recipe
Indian Food - Sadhana Ginde, Editor

Hmm, carrots for dessert? Really?!? Only in India :-) My easy to prepare Carrot Halwa is a delicious & beloved dessert enjoyed throughout the country. This traditional dessert may sound strange, but trust me - one heavenly little bite, and you will be hooked for sure - so try it soon!




Pasadena's Suicide Bridge
California - Korie Beth Brown, Ph.D. , Editor

Another ghost tale to celebrate the autumn season in California!




Changing Yarn Weights in Sweater Patterns
Knitting - Korie Beth Brown, Ph.D., Editor

Prefer DK to bulky sweaters, but love a certain pattern? Re-size it and make it your own!


| Google+ |
E D I T O R R E C O M M E N D E D
From Pain to Parenthood


Follow one woman´s incredible and heartfelt journey from the pain of miscarriages to the joy of becoming a parent through adoption. Filled with honest, raw emotions and helpful coping tips, "From Pain to Parenthood" promises to touch your life with a real story that shows the power of the human spirit and the beauty of a mother´s love.
Spirit Beach - Paranormal Romance Novel


When Renee Simone stumbles on the legend of John Henry Covington, the man with the mesmerizing eyes in the ominous portrait at the Covington B & B she and Adrian find out too late that a vampire's lust for love and blood never dies. Fear grows as the gusty sea spray and wind persuasively invites her to a personal audience with a ghost… "I´ve been waiting for you, Renee."
A Walk With Eve Devotional


This devotional study focuses on the lives of more than forty women of the Bible. Each study concludes with soul-searching questions to encourage the reader to turn biblical wisdom into contemporary living.